What's new in priPrinter 5.6
In many aspects priPrinter 5.6 is an improved version of priPrinter 5.5.
Highlights:
New MS Office 2013 color theme was added. All classic themes are still here.
Ink saving mode was improved very much. Ink usage estimation was added.
Additional ability to configure duplex printers was added.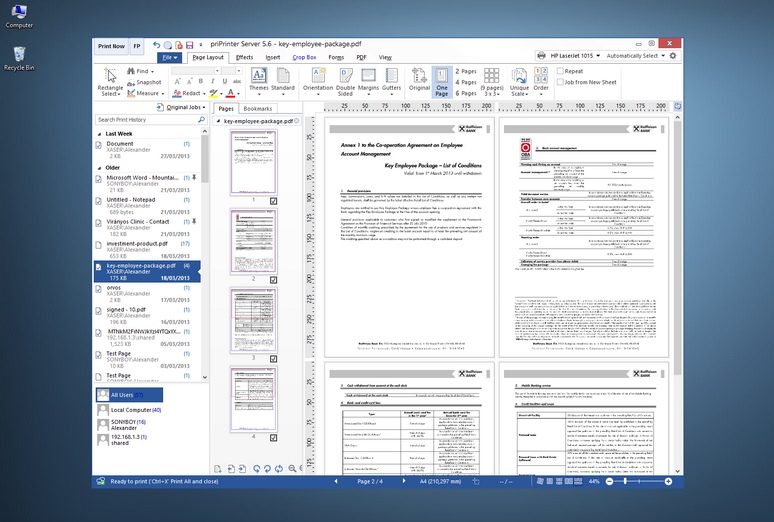 New Features in depth:
New color theme is added. Similar to MS Office 2013.
Added an experimetal feature to insert 3D Graphics to PDF files.
New keyboard shortcut for default theme is added.
Added an ability to rescale rectangular selection.
Ink saving mode is improved.
Ink usage estimation is added.
Added an ability to slightly customize print preview pane by inserting Ink saving mode, duplex, borders and page separator controls.
New command - Paste image from clipboard.
Added an option to put color label to any specific printer. Label will be visible in print preview pane.
Improved per printer option to show print preview pane: Always, Never and Default.
Improved handling of Arabic texts:

Order of characters in UNICODE string.
Simulated and predefined Italic fonts now should be handled correctly.

Additional configuration option for duplex printer is added (Duplex Page of Printer Options Dialog). Now it is possible to automatically switch printer to duplex/simplex mode even in case if printer does not support this via standard API.
Almost all localizations were updated in order to support new features.
Number of copies is now visible in job properties dialog.
Some applications may send image bits in PNG or JPEG format with wrong dimensions. Now this situation must be detected and corrected.
Main window shadow in skinned mode is improved.
New Office 2013 theme should be activated by default.
Offline job should be more noticeable - Server Edition.
Offline mode is not reset each time on priPrinter restart - Server Edition.
Fixed an issue with changing orientation in case if document is not loaded.
Now it is possible to rotate and zoom pages in 3d view mode while Print Preview Pane is active.
Minor issues and fixes.